Meet our Advisory Committee officially formed February 2022
Formed with all currently or previously unhoused/unsheltered Maui County residents, the Advisory Committee are experts in surviving in the most inhumane conditions. Their first-hand, lived experiences of trying to navigate agency protocols under dire conditions are the needed voices to change this broken system.
We are residents of Maui County who are either currently living unhoused/unsheltered or are in an emergency shelter. They are determined to bring their voice into the process of decision-making while overcoming the massive digital divide and economic barriers which isolate them. SYM is proud to be their facilitator and partner.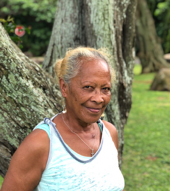 Sonia Davis
Born on Molokai, I am a Tutu to 9 grandchildren 11 great grans. On weekends I dance ministry hula and enjoy swimming in the ocean with my dogs. Sunday I go to church. I'm tired of the way things are done, actually not done, and am on the advisory committee to make real changes in our community. I never want my grandchildren to go through this.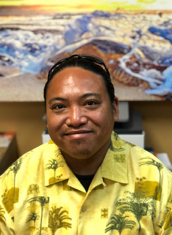 Darren Vasquesz, Jr.
Born and raised a music man, I love music of all kinds. A self proclaimed "picker" vs. "strummer," I've played the ukulele for many many years. Born in Hilo, 'safety and humble hospitality' of other homeless people is my motto. I joined the advocacy committee to help people around me accomplish something they've been trying to do and to be safe. I am dedicated to bringing true Hawaiian cultures back.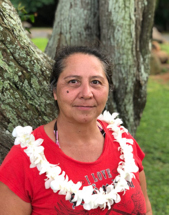 Laura Reidell
Born into a Mono Native American and Thai heritage, I have a dream catcher tattoo over my heart. The blossom represents the love that I give back. Extremely empathetic, I connect with others struggling through love and not necessarily words. I joined the advisory committee because I want this island to feel whole again through accountability and transparency.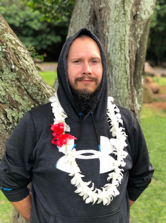 Adam Walton
And automotive historian, I remember being in a baby seat watching my stepdad fix cars. This is one of my earliest memories and I love talking about classic cars. Although I'm pretty quiet, I joined the advisory committee to move forward and include ALL community members. I feel dedicated to bring accountability to ALL and learn more about our rights so we can be part of the solutions.
Larry Delizo
A Maui County community nursing school graduate, I began my nursing career at Kula Hospital and Kaiser. Contributing to the well-being of other humans and compassion drove me to this work and continues to drive me. I've come to the advisory committee to bring my experience. Having been homeless myself for many years, I'm aware of the needs of those who are living this life. I want to inform and contribute to critical changes.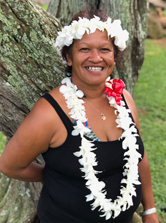 Jessica Lau
Born and raised in "the projects" in Happy Valley, Wailuku, this Maui girl has lived by the motto of Don't Sell Yourself Short! A mother, sister, and auntie, she enjoys kayaking, bike riding, giving tours, and sharing Hawaiian history and culture. She will never give up in life's challenges and brings enormous energy and hope to everyone she meets.